Setelah satu tahun menunggu, penampilan Beyonce di panggung utama Coachella pada Sabtu lalu waktu Palm Spring, California, melebihi level spektakuler. Jika memantau sosial media, postingan video sampai foto-foto penampilan istri Jay-Z ini bertebaran di feed kamu. Setelah disimak dan dipelajari, ternyata penampilan Beyonce malam itu memecahkan 5 rekor ini sepanjang sejarah Coachella!
1. Headliner Wanita Kulit Hitam Pertama
"Coachella, thank you for allowing me to be the first black woman to headline," ucap Beyoncé, sebelum menyanyikan lagu hitsnya "Run the World (Girls)."
2. Destiny's Child: grup band wanita pertama yang pernah tampil di Coachella
Setelah tahun lalu gagal manggung di Coachella, Beyonce membuka penampilannya dengan lagu Crazy in Love diiringi oleh marching band bergaya New Orleans, dan kemudian disusul lagu "Lift Every Voice and Sing" yang dikenal sebagai lagu kebangsaan kulit hitam di sana.
Bey, menyanyikan beberapa lagu dari album "Lemonade" dengan iringan band dan penari latar yang menghentak dan tak pernah kehabisan energi.
Setelah berbulan-bulan beredar kabar Destiny's Child akan reuni, kemarin Bey menyatukan dua sahabat terdekatnya Kelly Rowland dan Michelle Williams, dan menyanyikan lagu kebanggaan mereka, "Say My Name," "Soldier" dan "Lose My Breath." Yup, ini mencatat rekor Destiny's Child adalah grup band wanita pertama yang pernah tampil di Coachella.
3. Disiarkan langsung via Youtube melalui channel "Coachella", Bey sekaligus mencatat rekor live streaming tertinggi yang pernah ada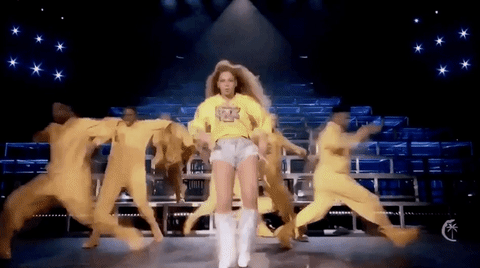 4. Mencatat penampilan yang paling banyak di twit dan paling dipuji di Coachella
5. Mencatat tarian terpanjang di panggung Coachella
Tak tanggung-tanggung kehadiran para sahabatnya (Destiny's Child) , adiknya (Solange Knowles), tata panggungnya dan dance yang tanpa henti membuat penampilannya kali ini di luar ekspektasi.
Beyonce tercatat menyanyikan 26 lagu lengkap dengan koreografi dan pergantian kostum, dengan total tampil selama 2,5 jam.
Long live #Beychella, begitu hashtag yang viral selama penampilannya.
(Image: dok. Instagram @beyone; dok. giphy)
Sumber Cosmopolitan Indonesia